Council Permits
If the skip is to be left on the road you will need a Skip Permit from your local council.
Prices and times taken to get the permit vary from council to council and usually last 28 days.
Tom will sort this out for you if you need one and charges £80 and £85 for Bath
The good news is that if you have a driveway or front garden where the skip can be placed then you do not need a Skip Permit.
Driveway or Garden: No permit needed.
If you really don't have the space for a skip:– Try either a skip bag or go to Toms Rubbish Clearance and request a collection.
No room for a

Skip?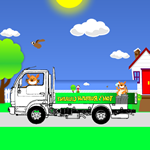 If a skip is not for you but you need your junk collected rubbish or junk collected collected Call:
---
More Information about Permits
More detail about skip permits can be found on local council websites.